The California governor put GOP leaders on blast on health care, gun control, book bans and more.

By Ed Mazza
Jul 10, 2023, 01:27 AM EDT
|Updated Jul 10, 2023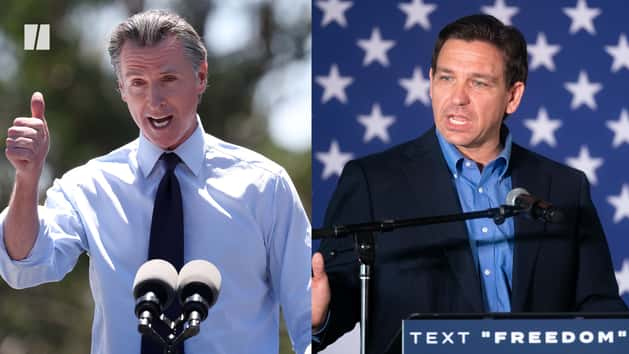 California Gov. Gavin Newsom (D) tore into Republican governors over how their states have suffered under GOP leadership.
He started with a quick dismissal of Texas Gov. Greg Abbott (R).
"One of the worst crime and murder rates in America and one of the worst mental health records of any governor in America," he told MSNBC's Jen Psaki. "I'm not so convinced about the merits of his leadership."
Newsom said the problem wasn't limited to Texas.
"Eight of the top 10 murder states are Republican states," he said. "Seven of the top 10 dependent states ― God forbid, dependent states ― are red states."
He was just getting warmed up:
The life expectancy in the South and they're not expanding Medicaid and prenatal care and providing child care? It's jaw-dropping. How they all continue to get reelected is beyond me. Infant mortality? You care about life, and you look at life expectancy? You care about life, and you have kids that are gunned down by weapons of war? Spare me. All in the name of freedom, as you're banning books?
"With all due respect, we should not be on the defensive as the Democratic Party," he concluded. "The Republican Party should be on their heels, not us."